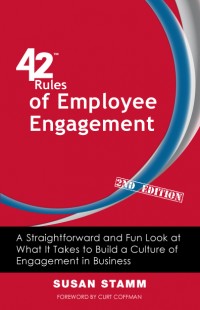 42 Rules of Employee Engagement (2nd Edition)
What's it about?
"42 Rules of Employee Engagement (2nd Edition)" (also available in our leadership and in our management bundle) takes a practical, straightforward and fun look at what it takes to build community, commitment and a culture of engagement in the business world today. This leadership book highlights common behaviors that lead to "disengagement" in teams and offers useful, no-nonsense ideas for doing things differently.
This book responds to those day-to-day situations that seem to drive employees away from offering you their best. These ideas are not difficult to understand, but for some reason they are not common practice among many leaders. Each rule challenges you to take action immediately. Use these actions to transform your team. Meet with your team weekly over the next 42 weeks and discuss the implication of each rule for your workplace. Hold each other accountable to actions and goals that come from these discussions.
Author Susan Stamm will inspire and challenge you to create a unique workspace with your team that attracts and inspires high performance, commitment and authentic work relationships. This book is loaded with practical advice and actions you can take away to begin building an engaged team.
What they're saying.
"Get '42 Rules of Employee Engagement (2nd Edition)', read it, and soak up the wisdom of this wonderful woman Susan Stamm. Invest time to reflect on what she says or, better yet, start a book group to go through it together. You'll be a better a leader and person for doing it." Michael Lee Stallard, Primary Author 'Fired Up or Burned Out: How to Reignite Your Team's Passion, Creativity and Productivity'
"Susan Stamm is a talented and engaging writer who offers personal experiences and business examples told in engaging stories and transforms them into 42 insightful action rules to encourage robust employee engagement actions." David Zinger, Founder, The Employee Engagement Network
What's in the book.
Rule 2 Get "Under New Management"
Rule 5 Be a Hands-On Manager
Rule 10 Support Team Members When Needed
You can register for a free book excerpt on the right side of the page. Just complete the form and we'll email it right to you.
Watch the webcast


Registration with the BrightTALK network is free and gives you access to all 42Rules webcasts plus thousands more across their network.