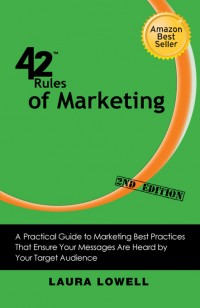 42 Rules of Marketing (2nd Edition)
What's it about?
"42 Rules of Marketing (2nd Edition)" (also available in our marketing bundle) by author Laura Lowell is a compilation of ideas, theories, and practical approaches to marketing challenges the author has been collecting throughout her career. The idea was to create a series of helpful reminders; things that marketers know we should do, but don't always have the time or patience to do.
The author, Laura Lowell, says "As you read through the rules, I only ask one thing. Don't take them literally. They are composed of interesting stories, anecdotes and observations. Keep the book on your desk as it is intended as an "entertaining antidote" to long, boring conference calls. I suggest you don't read them in order, but flip through them until something strikes you. If it sparks an idea, or reminds you to do something, then I've done what I set out to do."
Feel free to pass the rules from this marketing book along to anyone you think might benefit from a friendly little reminder. Use them to start a discussion about what other people think the rules should be. I invite you to share your "rules" and be part of an ongoing discussion. After all, these are my rules. What are yours?"
What they're saying.
"These 42 Rules are gems of advice and gentle reminders that every marketer needs to hear from time to time, packaged in concise, fun-to-read nuggets. If 'marketing' is in your title, you need to have this book in your library." Chris Shipley, Co-Founder, Guidewire Group Inc., and Executive Producer of the DEMO Conference
"It's an actionable guide for anyone looking to improve the quality of their marketing. Laura's rules have sparked ideas with me and my team and have helped us make a lot of progress. Keep it on your desk, refer to it often and tell a friend." Melissa Johnson, Director, Annual Fund, Walter A. Haas School of Business, UC Berkeley
"It's a funny, honest look at how marketing really works. Laura has written a book that captures the basics we know about but don't always do." Kathy Johnson, Co-Founder, Consort Partners
What's in the book.
Here's a small sample of the actionable content in the book:
Rule 4 Know What You're Aiming At
Rule 17 Do It Their Way
Rule 31 Don't Get Caught in the Hype
You can register for a free book excerpt on the right side of the page. Just complete the form and we'll email it right to you.