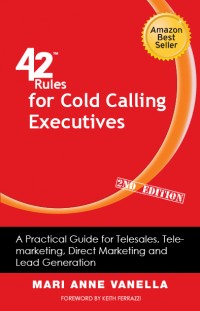 What's it about?
"42 Rules of Cold Calling Executives (2nd Edition)" is an easy-to-read sales book that gives concise, easy to implement methods to get results with cold calls. Many sales professionals find that part of their job difficult and unpleasant, yet the 42 Rules give them ways to redesign their thinking, approach, practices, and tools to get the best possible results.
If you are part of sales management looking to give your team something to help them with cold calling challenges or are an account rep wanting better results, this book is for you. In it, you will learn and explore:
Easy to implement methods to improve performance
Real life examples of what works
Techniques for immediately making cold calling easier
Ways to deliver consistent results
How to get out of a production slump
This book contains some of the fundamental principles author Mari Anne Vanella has developed over the course of her career. Her clients and her own company use this approach to execute the top performing programs in the industry for the past seven years.
What they're saying.
"Mari Anne's book serves as a useful and clearly written guide for both sales teams and management. The process of calling executives, understanding their pain points, what their needs are, and capturing their attention to share your services and stories is a delicate one. Mari Anne shares insight and guidelines that only an experienced and confident professional can do well. What are IT executives concerned with everyday? What are the needs of enterprise technology companies? As a sales professional, how do you build your pipeline with new opportunities? Understanding these questions, the full buy cycle process, and most importantly – how human psychology plays a role in business and sales is vital. "42 Rules of Cold Calling Executives" should be a reference book on every sales/lead gen. professional's desk." Maria Ross, Founder Red Radish Marketing
"Mari Anne's Rules are practical, well thought out and show her obvious breadth of experience. She is very good at pointing out how a salesperson with any level of telephone experience can apply strengths that they might have in everyday interactions to becoming a more effective cold caller." Garth Moulton Co-Founder, VP of Community Jigsaw
"Our research shows that lead generation and early identification of buying cycles are top challenges for companies today. The Vanella Group has been successfully meeting these challenges for its high-tech clients for the past 7 years. Mari Anne Vanella now shares the rules she's developed and her company follows to ensure success in this critical area of sales." Barry Trailer Managing Partner CSO Insights
What's in the book.
Here's a small sample of the actionable content in this book:
Rule 6 Gather Prospects from Prospects
Rule 16 See Every Project from The Prospect's Perspective
Rule 30 How to Troubleshoot Your Calling?
Watch the webcast


Registration with the BrightTALK network is free and gives you access to all 42Rules webcasts plus thousands more across their network.
Continue Reading
•
Comments Off

on 42 Rules of Cold Calling Executives (2nd Edition)