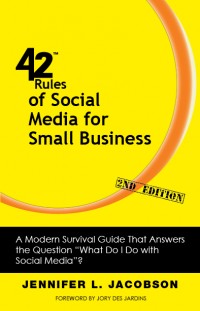 What's it about?
"42 Rules of Social Media for Small Business (2nd Edition)" (also available in our marketing bundle) is the modern survival guide to effective social media communications and the answer to the question, "What do I do with social media?" Written by communications professional Jennifer L. Jacobson, this book is designed to help entrepreneuring professionals use social media to propel their business and get the most out of their social presence. From networking communication to social branding, "42 Rules of Social Media for Small Business (2nd Edition)" addresses specific rules of engagement, as well as the fundamental approach to online, as opposed to traditional, media.
As part of the 42 Rules series, this social media book is designed to quickly and effectively equip business professionals with the tools they need to grow an effective customer community through social media, that translates into customer loyalty, excitement for the brand, and return business that eventually generates a dedicated customer base and increased revenue. "42 Rules of Social Media for Small Business (2nd Edition)" demystifies social media and teaches readers why social media is important to their business and how they can maximize their social media effectiveness.
Jennifer L. Jacobson is a communications professional who drives public relations and social media for Retrevo.com, one of the largest consumer electronics shopping and review sites in the world.
What they're saying.
What's in the book?
Here's a small sample of the actionable content in this book:
Rule 4 Thoughtful Social Media Generates Thoughtful People
Rule 14 Meet With Customers Virtually
Rule 26 Have Enough Lifeboats To Save Your Blog
Watch the webcast


Registration with the BrightTALK network is free and gives you access to all 42Rules webcasts plus thousands more across their network.
Continue Reading
•
Comments Off

on 42 Rules of Social Media for Small Business (2nd Edition)