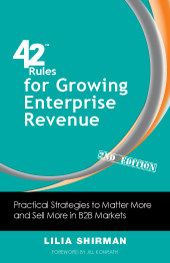 What's it about?
"42 Rules for Growing Enterprise Revenue (2nd Edition)" (also available in our sales bundle) is for companies that want to matter more to the customers and markets that represent the greatest opportunities for growth.  The book is based on three core premises:
Customer relevance is at the core of any successful revenue growth strategy.
Being relevant is an enterprise skill, not a departmental function
There is no silver bullet for continuous growth — you have to keep trying new things
The book "42 Rules for Growing Enterprise Revenue (2nd Edition)" by Lilia Shirman are based on proven, cross-functional initiatives that allow business leaders to identify and understand target markets, define customers' context for purchases, and prove their companies' value within that context.  In this management book Shirman combines her own observations with lessons from business leaders at Cisco, Salesforce.com, Adobe, Citrix, and others to distill actionable strategies for B2B vendors to drive sustainable relevance and growth.
The rules cover a broad spectrum of concepts, including:
Developing relevance as a corporate skill
Finding markets where you matter
Defining and proving value
Solution orchestration
Industry specialization
Sales channel empowerment
What they're saying.
"The core of growing any venture is deep customer insight. Lilia Shirman gives simple, powerful frameworks, practical action plans, and real world examples for putting such insight to work. This book should be assigned reading in every business and entrepreneurship course." Tom Kosnik, Fenwick and West Consulting Professor, Stanford Technology Ventures Program, Stanford University
"Simplistic value claims won't cut it in enterprise accounts. Don't leave sales teams to do the hard work of proving worth on their own. Shirman inspires us to stop "crafting" messages and instead to collaborate with customers to understand how and why we really matter. And then to throw the entire organization behind mattering more." Rick Jackson, CMO, VMWAre
"To avoid commoditization, B2B companies must constantly expand their offerings and innovate how they sell, market, serve, partner; In short, how they do business. If adding yet another product feature is no longer enough to differentiate, read this book. Shirman provides a treasure-trove of strategies for staying relevant and valuable." Erik Frieberg, VP Solutions Marketing, HP Software
What's in the book.
Rule 5 Build Your Portfolio of Corporate Skills
Rule 18 Ask Customers to Say "I Wish"
Rule 36 Define Your Specialization Roadmap
You can register for a free book excerpt on the right side of the page. Just complete the form and we'll email it right to you.
Watch the webcast
Continue Reading
•
Comments Off

on 42 Rules for Growing Enterprise Revenue (2nd Edition)