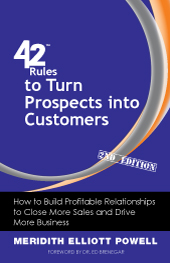 What's it about?
The economy is changing. Trust and value have become the new Return on Investment (ROI). Consumers are the new drivers of the market; they are in control of where, when, how and from whom they buy. To succeed in this economy you need to do it all – build relationships, establish trust and value, maximize efficiency and generate bottom line results.
In her new management book, "42 Rules To Turn your Prospects into Customers (2nd Edition)" (also available in our sales bundle), Meridith Elliott Powell draws on her 20-plus years in sales to give you a practical step-by-step guide on how to find the right prospects, build profitable relationships, close more sales and turn your customers into champions for your business. Through her experience, research and interviews with sales professionals, clients and executives, Powell has gathered valuable information that will help you navigate this change, get ahead of the curve, and succeed.
For sales people, business owners, and executives who need to know how to identify the right prospects; build quality relationships, and maximize their sales efforts, this book provides solid, actionable answers. The rules can be learned quickly and implemented immediately so you and your teams can develop your most critical skill – striking the balance between relationships and results.
Powell answers these questions and more:
How can I make sure my networking efforts are setting me up for sales success?
How do I maximize my time and minimize my expenses?
How do I handle the stress of producing and meeting sales goals?
How do I get my customers to buy my best and most valuable products or services?
How do I standout from the competition?
Author Meredith Elliott Powell, a life-long student of sales and the sales process, is passionate about helping her clients succeed. Her experience, dedication to research and her desire to listen and learn from the ultimate teacher – our customers – ensure readers gain first hand knowledge of how to Turn Prospects into Customers.
What they're saying.
"Between the specific action steps and the simplicity of Meridith's ideas, I found myself eager to try what I learned in this benefit-rich book. I gained ideas for my business in almost every chapter and have been effortlessly taking new steps forward with my sales process. Meridith just makes the sales process so easy!" Misti Burmeister, CEO Inspirion, Inc., New York Times Best-Selling Author, Boomers to Bloggers: Success Strategies across Generations
"Sales can seem overwhelming and scary to so many, but thank goodness for Meridith. She approaches the topic of sales in a unique way in her new book by laying out easy steps that lead to great relationships that close that deal. This book is ideal for everyone from the sales professional to the professional who never thought they would have to sell. By the time you finish Meridith's book, you will be a salesperson with a smile." Marquesa Pettway, DTM, Reinvention Expert, Speaker, Author, Coach
What's in the book.
Here's a small sample of the actionable content in this book:
Rule 2 Confidence Is Key To Sales
Rule 20 Master the Art of Listening
Rule 39 Invest in Yourself
You can register for a free book excerpt on the right side of the page. Just complete the form and we'll email it right to you.
Watch the webcast


Registration with the BrightTALK network is free and gives you access to all 42Rules webcasts plus thousands more across their network.
Continue Reading
•
Comments Off

on 42 Rules to Turn Prospects into Customers (2nd Edition)