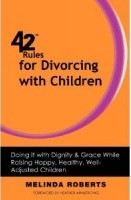 What's it about?
42 Rules for Divorcing With Children:  Doing It with Dignity & Grace While Raising Happy, Healthy, Well-Adjusted Children offers practical ways to manage a healthy divorce, build a better team in two houses, minimize stress and anxiety on all fronts, and construct relationships with open and consistent communication.
In this book you will learn:
What putting the children first really means.
How to preserve marital assets for you and your children.
How to set reasonable ground rules for the divorce and going forward.
How to set a respectful communication example so that you can divorce with dignity.
Use this self help book as objective advice, refer to it often, share it with others, use it as a reality check, and realize that divorce is not linear and that damage is not permanent or irreparable. If you do this well, the other parent will always be in your life. Find a way to make that tolerable for everyone, because no matter where you go or what you do, your children are tethered to both of you in an incredibly delicate and important way. Learn to accommodate each other as a gift to your children while they grow. Set good examples that will help them make their own relationship choices wisely by drawing on your positive experience. And for you, know that someday, somewhere, you will almost certainly find a partner with whom you can have a mutually respectful, loving, and responsible relationship.
This book will help divorcing parents in some simple ways that I wish I'd been helped as I stumbled my way through divorce with kids. I'm amazed at how well my Ex and I have been able to manage it and am constantly told by others that ours is an exemplary model for managing post-divorce life for our children and ourselves. You will learn how taking care of yourself will help you take care of your family. This book will help prevent divorce remorse and divided loyalties. This distillation of what I have learned from my own experience and from watching others either succeed wildly or fail spectacularly at divorcing with children is what I call Divorcing with Tenderness, Grace and Dignity. Or, failing that, with Sanity, Self-respect, and Solvency.  Learn more about author Melinda Roberts.
What they're saying.
"Every divorcing couple, or any couple contemplating divorce, should read this book." Virginia Gilbert
"If you're not getting a divorce, your best friend, coworker, sibling, or even your mom will be, and they'll need the 42 Rules to help them through it successfully." Anne Marie Nichols
"Time DOES heal all wounds, and they heal much faster when the sanctity and well being of your kids is the center point." Gil Roberts